So langsam, fast zehn Jahre später, kommt mir der Gedanke, dass Naomi Klein vielleicht doch Recht hatte. Globalisierung taugt nur begrenzt. Globalisierung taugt jedenfalls DANN nicht, wenn man ein Problem mit einem Produkt eines hochgradig globalisierten und globalisierenden Konzern hat.
Mir geht das im Moment mit einem Security Produkt von SafeNet so. SafeNet Inc. ist vergleichsweise grosser Konzern, der aber offenbar völlig mit der Steuerung der eigenen Organisation überfordert ist.
Das vergleichsweise simple Problem, eine fehlgeschlagene Aktivierung des Produktes, führte jedenfalls zu einer Telefon-Odyssee.
Bochum: "Uhm. Wir würden gerne, aber … rufen Sie doch mal in München an."
München: "Öh. Neee, das … uh. Da müssten Sie mal den EMEA Support anrufen."
Surrey, UK: "I see … no, we do not support this product in Europe, you need to talk to our american colleagues."
Maryland, USA: krrzzzlll … blip .. redirect.
Chennai, Indien: "How can I help you?"
Der indische Kollege war mit Abstand der freundlichste, was möglicherweise auch daran liegt, dass er von allen Beteiligten das beste Lokalwetter hat. Helfen konnte er mir leider nicht, da das Problem offenbar von seinem elektronischen Support-Formular nicht erfasst werden konnte.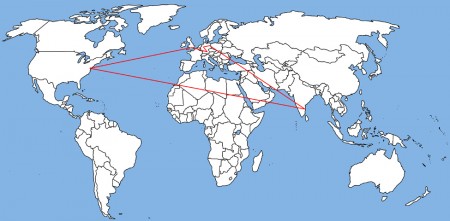 Und so bleibt das Problem für heute ungelöst. Ob man wohl vor 150 Jahren jemanden auf Geschäftsreise geschickt hätte, um sich der Sache vor Ort anzunehmen? In dem Fall hätte man vielleicht noch irgendwas in Südamerika, Australien und Nord-Ost China dazu nehmen sollen.
DANN hätte sich die Globalisierung vielleicht sogar gelohnt. Zumindest für den Reisenden.