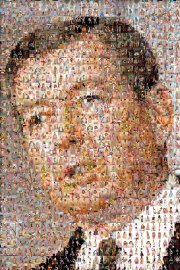 This is not even remotely new but I figured it would be a good idea to join the nearly endless list of blogs featuring the face of John Ashcroft made entirely from porn images.
Those of you not familiar with american ignorance politics might vaguely remember the name as "Hey, isn't that this hilariously funny hardcore religious fundamentalist retard from The People vs. Larry Flynt??" — well, yes, that's the one. Additionally he used to be the Attorney General of the United States and you better bet he still is somewhat influential on american ignorance politics.
So here is the photomosaic of John Ashcroft — and there is a larger version (1.200×1.800px) as well.
Oh and by the way … if you look at the larger version and go like … "Ah … I know this one … and her as well … oh, and she's here, too ….ah, the goth series …" then … well …. don't worry. That's ok. 😉