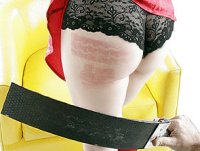 Sweet … that's gonna look like you've been run over by a car.
"I tell ya … so I was like lying there on that sidewalk and he kept driving back and forth and back and …. "
And it's environmentally acceptable as well: "Made from black rubber tire tread and recycled street sign aluminum [sic!]".
(Seen at JT's Stockroom)