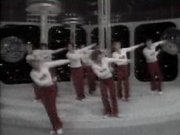 There it is. The worst music video ever. Period. There is nothing more to add, really. Too bad it comes with an awfully catchy tune.
The google video tagline says: "An 80's Finnish music video called "I Wanna Love You Tender" by Armi & Danny" … I personally have never heard of them and I guess that's not without any reason.
Anyway, they seem to be serious about it. Watch it. Listen to it. Suffer!